Retrieving Trials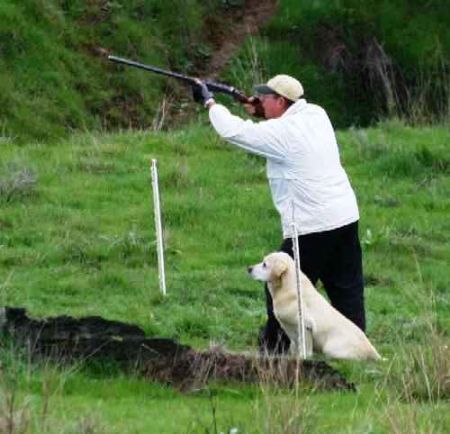 First and foremost the Labrador Retriever is a working gundog.
The very first Labrador "imports" that were taken to England from their ancestral
home in Newfoundland travelled with one purpose in mind.
That sole purpose was to allow the English gentry the opportunity of developing
and finetuning the ultimate shooting retriever.
There was no concept back in 1822 that these dogs had a dual purpose.
There was no consideration given back almost 190 years ago that these dogs would
also prove to be the World's Very Best and Most Popular:
Family Companion Dog
Guide Dog
Bomb Detector Dog
Drug Detector Dog
Military Service Dog
and of course
Retrieving Dog
Read the story of Queensland's most famous Dual Purpose Labrador Retriever here.
Aust Quadruple Champion Tenarda Easy Rider
"Chips" to those who knew him best.
The LRCQ Inc. has many experienced Retrieving Trial enthusiasts who are more than willing
to assist new members to develop a better understanding of this challenging sport.
Read a very interesting article by highly regarded "trialler" Ron Jackson
entitled "Born to Retrieve".
*****************************
NEW RULES PERTAINING TO THE GAME USED FOR RETRIEVING TRIALS
Queensland Amendment to Australian National Kennel Council Ltd - Retrieving Trials - Rules for the conduct of Retrieving Trials for Gundogs (Effective from 1st January 2020)
The Board recently resolved that the below amendment to the ANKC Rules to include artificial game at Queensland Trials is approved effective immediately.
8(K) Game – Definition of - Quail, Duck, Pigeon, Partridge, Pheasant, Rabbit and Hare, inclusive of domesticated variants of the above species.
Replica Game may be used by a club within the following strict guidelines: -
1. Championship events must use only traditional game.
2. Only the approved replica game of the correct specifications must be used
3. The same uniform replica game must be used in all stakes (Novice/Restricted/All Age)
4. No blending of traditional game and replica game on any run including diversionary items.
5. The 'modified game' retrieving trial must be advertised accordingly.
ADDITIONAL requirements include:
Dogs still in competition on the LAST RUN are required to pick up the following number of traditional feathered game in the following stakes: -
Novice: One item
Restricted: Two items
All Age: Three item of traditional feathered game or two feathered and one fur.
Approved replica game must be provided by the club and may include:
1. Black and white dummies of a specified size (e.g., upwards of L 29cm Circum 23cm Diam 7cm)
2. Replica ducks (e.g., Dokken) of a specified size (e.g., upwards of medium size)
3. To be awarded the Title of Retrieving Trial Champion the applicant must have won an All AGE on only Feather and/or Fur (Traditional Game).
PLEASE CLICK HERE TO SEE DETAILS ON ANY UPCOMING RETRIEVING TRIALS
Alternatively, you can also contact our our Retrieving Trail Secretary
or send us an email via the contact form on our website.
PAST RESULTS