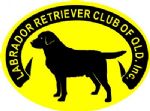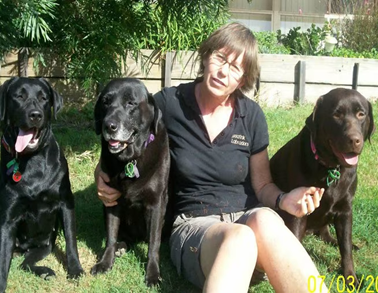 Wendy's Tribute
Wendy Sleeman of Lissatink Labradors has been a fellow member of the Labrador Retriever Club of Queensland Inc. with her involvement in this breed extending over 27 years. When I received the tragic news, which still pinches my heart, I have been trying to find the best remedy for coming to terms with such a difficult and shocking event. What comes to mind is that I can hold on to the honour and privilege to have known Wendy.
Our friendship first started through Wendy's involvement with her beloved Lissatink Labradors. Wendy was a strong, intelligent, and softly spoken woman with firm views on what she believed was important as a Labrador breeder. Combined with these attributes, Wendy had a heart of gold, was a model of love, compassion and generosity which were well respected in our small community. I have always said to people that just because dogs do not run round with mobile phones in their paws does not mean they have not developed over thousands of years. One of the main things about the Labrador Retriever is their ability to be extremely intuitive far beyond what many people understand. Wendy agreed and was able to reflect these import attributes in her puppies. Some of her dogs have gone to graduate as Guide Dogs and as therapy dogs for children with Autism.
Wendy did have a short break from breeding more recently due to some mobility issues attempting to tend to puppies, however her enthusiasm for the breed continued. I was fortunate to recall an email correspondence with Wendy which uses her own words to reflect on her time as Labrador Retriever breeder, "As you might remember, my philosophy was that our breeding females are family pets and grow up in the house. Eventually, our puppies will go to owners who have been carefully screened to ensure that they find the perfect family. Over my 25 years of breeding Labradors, we concentrated on providing happy, healthy, physically sound puppies. Some of our pups have trained to be Guide Dogs or gone on to obedience /tracking work. The majority have gone to loving families. I have had a great success rate in placing pups, and over the 25 years, I have only rehomed about 3 of my pups (mostly due to family breakdown)."
There is no doubt Wendy fulfilled her dream which is demonstrated by her small kennel's remarkable record. As I reflect on the saying 'not judge a book by the number of pages' I believe this to be true for Wendy. Although her time here was tragically cut short, Wendy's life was full of the joy of her dogs which was clearly seen with her love of them, and her commitment to their welfare, breeding, health, and above all securing the best owners for her puppies.
Wendy will be sorely missed by her family, friends, and the Labrador Retriever community to whom she contributed so very much.
Wilhelm Chang
President
Labrador Retriever Club of Queensland inc.
In accordance with Wendy's wishes, all donation in her memory to be kindly made to our club and please include the reference "Wendy"
Labrador Retriever Club of Queensland Inc.
BSB: 084134
Account number: 539771247
If you need to contact the LRCQ Inc. for any reason please do so
by sending your query via email to our Club Secretary:
All other mail enquiries to
LRCQ Secretary
Mrs Cath Wardle
91 Ciesolka Road, AUBIGNY, QLD, 4401

On behalf of the President and Committee, we welcome you to the LRCQ Inc. website.
The Labrador Retriever Club of Queensland Inc. is a club devoted to the improvement
in quality of breeding, working and exhibiting of Labrador Retrievers.
The purpose of this website is not only to provide information to our members
throughout Queensland, Australia and Overseas but to provide information to all visitors
who are interested in and love the Labrador Retriever breed.
Many of our members are experienced breeders and exhibitors who further the Club's aims
by helping new owners to understand all aspects of Labrador Retriever management.

The Club conducts Retrieving Trials, an Open Show and a Championship Show each year.
LRCQ Inc. members and their dogs also regularly participate in Obedience,
Agility, Tracking Trials, RATG (Retrieving Ability Tests for gundogs) and Retrievings Trials.
LRCQ Inc. membership is open to anyone who subscribes to the objects and purposes of the Club. They may own a Pedigreed, Registered Labrador Retriever or you could simply be somebody interested in any of the Club activities listed.
Thanks for visiting our website – we do hope that you enjoy your time with us.
Note: some of our Website pages contain links to documents that are quite large.
Some of these documents may take a little longer to download.
Club Patron
A couple of photos from our recent Open Show where Milton came along and had some fun with the dogs.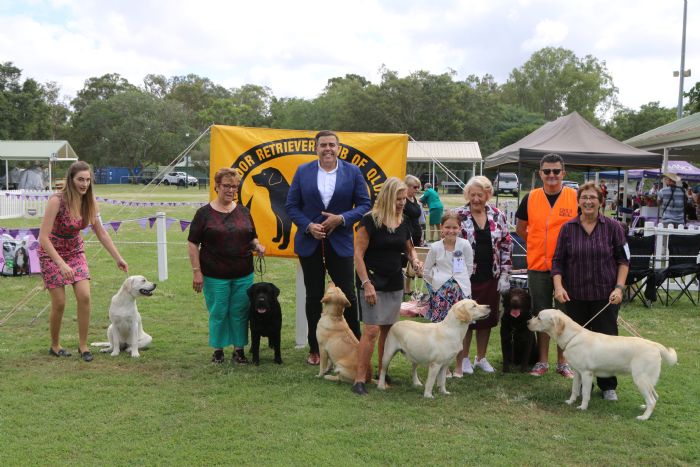 URGENT WARNING :
Please read this alert from the National Labrador Retriever Breed Council (Australia).
It deals with very concerning evidence of the so-called Silver Coat colour emerging in our breed.
Please understand that this is not a new colour of Labrador Retriever.
It is simply evidence that the dog is a cross bred Labrador / Weimaraner combination.
354451 Visitors